Tattoo Artist – Find Top 3 Tattoo Artist in Hyderabad
Looking for top tattoo artist in Hyderabad , There are many tattoo artist , you will find over the internet but how could you be you find which is best tattoo artist . In this post, Today we will cover only those artist which is famous with their work, price, etc. we love to tattoo because tattoo express our feeling through body art . Everyone want go to best Tattoo studio or Shop where they can take service like , they are looking for.
Naksh Tattoos : Safe Tattoo work
Naksh Tattoos is tattoo professional studio / Shop where one stop shop for different of tattoos in India. They are passionate about having high-tech designing techniques with highly trained professionals . The types of equipment we use are one a kind. Our studios assure the quality work, we define the artistry with a perspective of understanding the requirements of the customers, we also keep in mind of the cutting-edge (trendy) designs. Customer satisfaction stands to be our priority and we believe in working with the customers as the tattoos will become our second skin. Naksh Tattoos is award-wining and certified and professional Tattoo artist , This is studio is running by famous tattoo artist in Hyderabad The boss, the soul and the life of Naksh Studios be "Madhusudhan" also known as "Vicky".
Naksh Tattoos is top of the list of Tattoo shop/ Studio here you will find experienced Tattoo artist which will help and show you their creativity and innovative work on the tattoo design. The best things of Naksh Tattoos is,professional lab for tattoos, wide clients , popularity on google, Facebook etc. if you talk about the difference of the price , Prices are quit good other tattoo shop.
Tattoo Studio / Tattoo Shop
Shop no 1 -86 2nd Floor Naksh Tattoos Hitech City Road, Gafoor Nagar, Madhapur, Hyderabad, Telangana 500081
Level 2, Asian Radhika Mall, 500062, Officers Colony, Dr AS Rao Nagar, Hyderabad, Telangana 500062
Naksh Tattoos 1st Floor Oasis Center, Somajiguda Greenland Begumpet, Hyderabad, Telangana 500016
Phone Number : +91 9052270001 9676751440
Email id : nakshtattoos@gmail.com , info@nakshtattoos.com
Website : http://www.nakshtattoos.com/
Angel Tattoo Studio :
Angel tattoo studio is another best tattoo artist and the second of the top 3 artist list in Hyderabad. people is always choose only top tattoo artist around them but if we talk about the angel tattoo is certified and award wining tattoo artist in Hyderabad.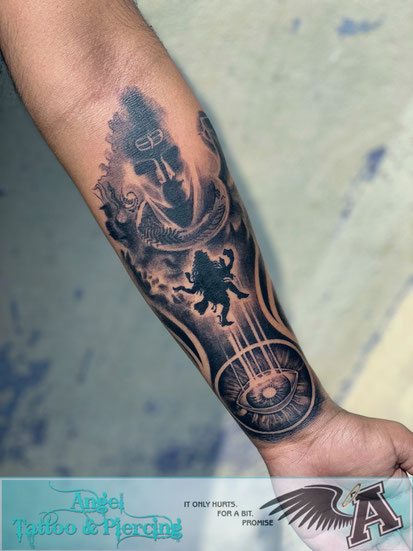 Welcome to "ANGEL TATTOO AND PIERCING STUDIO" safe, clean, friendly and a modern studio.
If you are looking for a masterpiece and a meaningful work of art in black and grey or color etched into your skin with zero compromise on hygiene then Angel's is the place to be! Be it is your 1st tattoo or an add-on, we at "ANGEL'S" have the skill and expertise to give you that specific piece of artwork with custom made design to suit your personality and style!
· ANGEL'S specialize in creating perfect cover-ups with all new custom made design which will make you forget about the mere existence of the previous tattoo. Our only goal – Turning a nightmare into a dream! ANGEL'S also value human emotions and understand the impact people can have in our lives and hence we specialize in creating perfect portraits of your loved which will remain with you forever as a great memory.
Address: shop no 15, devaki chambers, opp hdfc bank, near paradise, Secunderabad, Telangana 500003
Phone: 096420 33248
Website : – https://www.angeltattooz.com
7 HILLS TATTOOZ
7 Hills Tattooz is professional tattoo studio in Hyderabad , Its comes 3 in the list of Top tattoo artist in the Hyderabad. This studio is also famous day by day with their style and quality of work. Student/Girls is very attractive and impressed with quality work by 7 hills tattooz.
Best tattoos come from best artists.
"If you are a tattoo enthusiast, believe in the power of ink to transform your outlook towards life then 7 Hills Tattooz is the place for you. We here at 7 Hills Tattooz are patrons of art and we bring to you the best tattoo art in all of Hyderabad. We started long ago and have come a long way to achieve our status as the best tattoo studio in Hyderabad.
Address: Shop No. 103, 1st Floor, My Home Tycon Building, Kundanbagh Colony, Begumpet, Hyderabad, Telangana 500016
Phone: 090007 98998
Website : http://7hillstattooz.com/
Hope you will like this post, we have added only those tattoo artist which is best in the hyderabad with quality of work, price, design and creativity. they all are professional tattoo artist , here are you safe tattoo work.