Top 5 Studio to get tattoo in Hyderabad
Hyderabad is basically known for the technology industry in India. But we can say in other words, Its home a large number of tattoos studio, Shops, Parlours, roadside stalls etc. Some of the tattoos studios, Shops are not very hygienic that 's very harmful to your health. Below is a list of top 5 Tattoo place or point where you may get inked without any worrying about the problem,
With body art such a huge treads on these days in hyderabad. Now India 's almost every large city adpots new style of fashion in form of Tattoo design. You can't bealive that, Here are number of shops, studios, parlours of tattoos, makeup artist and all. Hyderabad is now hub of tattoos shops in India. Today we will share some great tattoos artist throughout the our post. Our team has researched on best tattoos shops and parlours in hyderabad.
Explore and save the latest tattoo trends from handmade best friend tattoos to black and white pieces with colorful floral patterns. See photos of his favorite tattooed star like Harry Styles, Justin Bieber or Ruby Rose, or inspire his new ink. Find animal, nature, or zodiac themes and more. Give yourself inspiration for the motivational quotes that appear on the surface.
Tattoos Shops and Parlours in Hyderabad
Below is list of best tattoos shops and Parlours in Hyderabad where you can safly get inked on your body. These all are hygienic tattoo studios in Hyderabad.
Naksh Tattoos & Body Piercing Studio/Shops
The one-stop shop for different kind of Tattoo in Hyderabad, India. We are into business since 2012, with multiple studios around the city (Somajiguda, Hi-tech City and AS Rao Nagar), AS Rao Nagar being the head office. We are passionate about having high-tech designing techniques with highly trained professionals .
Naksh Tattoos is one of the oldest & best tattoos studio/Shops for get inked , Tattoo design and body piercing, permanent, temporary tattoos, tattoos removal by Laser machine. Naksh Tatoos has their 3 own tattoos branch in the Hyderabad city. All branch are made with luxurious Lab and advanced tools.
Naksh Tattoos is located in 3 locations of hyderabad like A.S Rao Nagar, Hi-Tech City, Radhika Mall, in Hyderabad.
Level 2, Asian Radhika Mall, 500062, Officers Colony, Dr AS Rao Nagar, Hyderabad, Telangana 500062
Naksh Tattoos 1st Floor Oasis Center, Somajiguda Greenland Begumpet, Hyderabad, Telangana 500016
Shop no 1 -86 2nd Floor Naksh Tattoos Hitech City Road, Gafoor Nagar, Madhapur, Hyderabad, Telangana 500081
Contact details : 090522 70001
What the Clients Says about the Studio
"It's really an amazing place to get done your tattoo! You will definitely feel the positive personified aura.The cost meets the quality so no down grade. I personally do recommend Naksh for your first tattoo, my experience was really amazing and I was absolutely nervous! But after seeing the results,I was really glad to get my tattoo here. Amazing Job done by the artists."
Website : www.nakshtattoos.com
Facebook Page : https://www.facebook.com/nakshtattoos/
https://www.quora.com/Who-is-the-best-female-tattoo-artist-in-Hyderabad
Joysen Tattoo & Piercing Studio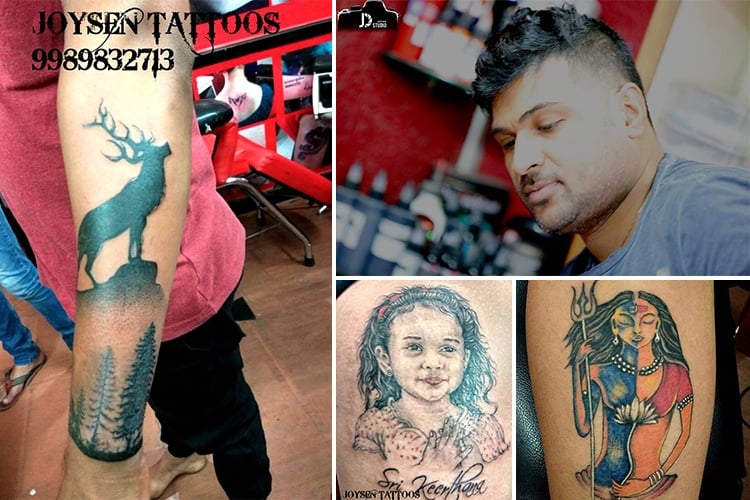 Have you been wondering about hunting down the perfect place to ink a permanent tattoo in Hyderabad? Your search comes to an end here. As you know Joysen Tattoos & Piercing Studio, you know the best where to get the best permanent tattoos in Hyderabad. Started by a diligent tattoo connoisseur Joysen who is based out of Kolkata, India, Joysen Tattoos & Piercing Studio offers the most exciting range of temporary and permanent tattoos & body piercing services to the people of Hyderabad.
Plot No. 8/A, Jubilee Hills Road No 2 & 5 Corner Krishna Nagar, RTC Cross Rd, RTC Cross Road, Hyderabad, Telangana 500045
Phone: 099898 32713
Website : – http://www.joysentattoostudio.com/
Sam Tattoos & Tattoo Shops Hyderabad
Sam Tattoos is also a good tattoos artist shops in Hyderabad . They are also professionals tattoo studio . Tattoos represent thinking, identity and strength of an individual and as an tattoo studio we understand your thoughts and give you a perfect tattoo like your dreams. We combine expertise with technology in comfortable hygienic environment to get the most creative design. Our requirements are your patience and your support to complete the task.
Shop No.4, 1st Floor, Gurukrupa Plaza, IndiaNagar, Gachibowli, Hyderabad, Telangana 500032
Phone Number – 087905 99007
Website : www.samtattoostudio.com
Angel Tattoo Studio
ANGEL'S specialize in creating perfect cover-ups with all new custom made design which will make you forget about the mere existence of the previous tattoo. Our only goal – Turning a nightmare into a dream! ANGEL'S also value human emotions and understand the impact people can have in our lives and hence we specialize in creating perfect portraits of your loved which will remain with you forever as a great memory.
shop no 15, Devki Chambers, opp. hdfc bank, near paradise, Sappu Bagh Apaprtment, Jogani, Ramgopalpet, Secunderabad, Telangana 500003
Phone: 096420 33248
Vsquare Tattoos & Body Piercing Studio
Vsquare Tattoos & Body Piercing Studio: Its established in 2010, Its oldest Tattoo Studio in Hyderabad. We are professional tattoo studio and completed more than `1500 tattoos and hungry for more. Senior tattoos artist of this studio have experienced more than 10 years to 12 years. They all have technique to provide hygiene tattoos services. V-square provides pain free tattoos and we trained under professional tattooist.
1432, Shop No. 103, 1st floor, Jamuna towers opp. Yashodha Hospital, Metro pillar, Malakpet, Hyderabad, Telangana 500036
Phone: 089786 20620
Website : vsquaretattoos.in